RIBBON CUTTINGS ARCHIVE
---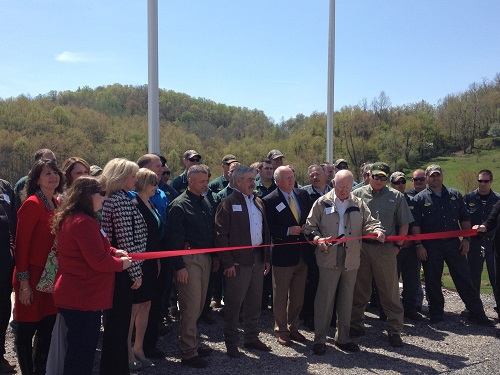 FESCO Shinnston District Open House
Date: 04/26/2013
FESCO held an Open House and Ribbon Cutting ceremony to mark the opening of their new Shinnston District office on April 26, 2013.
---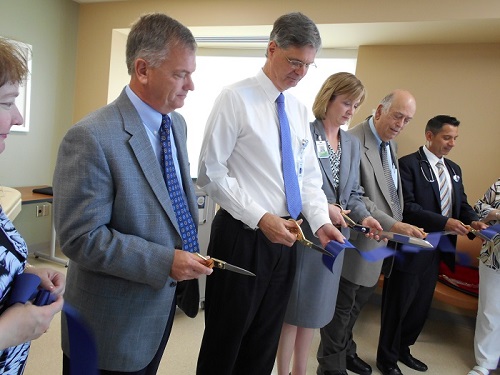 HealthSouth MountainView at Bridgeport
Date: 05/29/2013
HealthSouth of Bridgeport celebrated their grand opening with a Ribbon Cutting and Open House on May 29, 2013.
---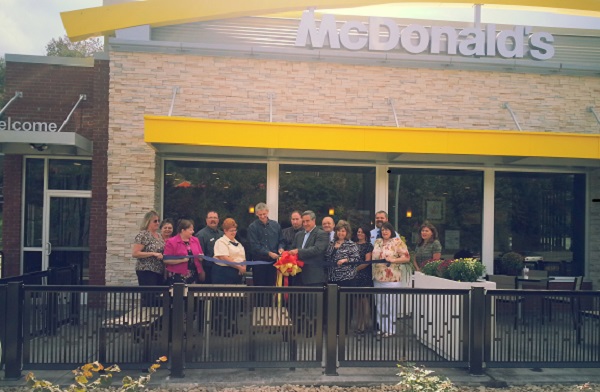 McDonald's of Bridgeport
Date: 10/01/2013
The McDonald's of Bridgeport held a grand re-opening on October 1st after a record rebuild.
---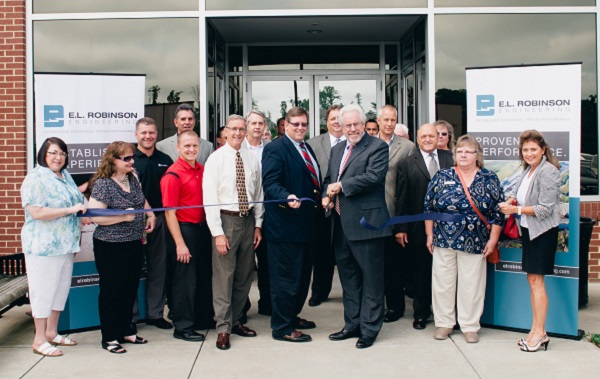 E.L. Robinson Engineering
Date: 08/22/2013
E.L. Robinson Engineering celebrated the opening of their new Bridgeport office at Charles Pointe on August 22nd.
---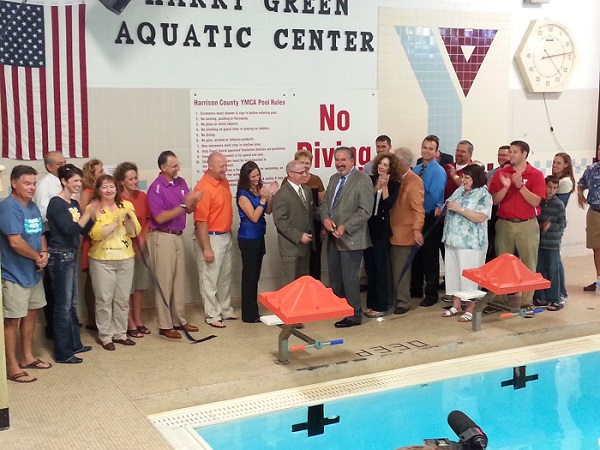 YMCA Harry Green Aquatic Center Dedication
Date: 10/04/2013
The Harrison County YMCA held a dedication and ribbon cutting ceremony naming their renovated pool and upgraded scoreboard the Harry Green Aquatic Center on October 4, 2013.
---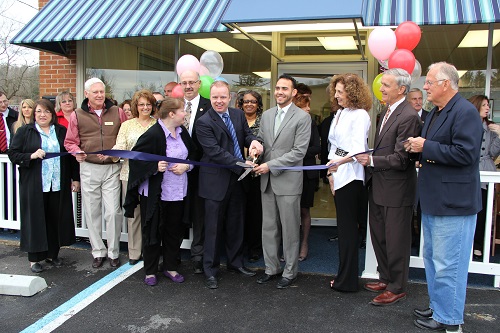 Affordable Funeral & Cremation Center
Date: 04/01/2014
Affordable Funeral & Cremation Center opened new retail store in Nutterfort on April 1st.
---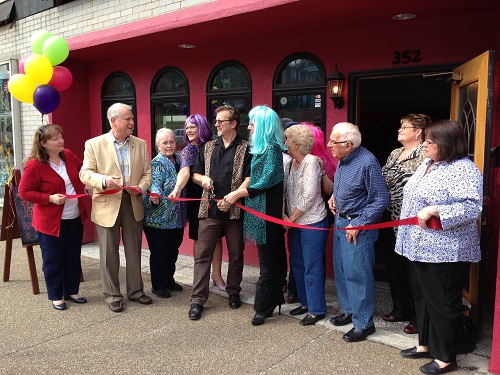 Fabulous Lulu's
Date: 04/04/2014
Owners Cathy Goings and Amanda Leaseburg welcome customers to their new shoppe on Main Street in Downtown Clarksburg on April 4th.
---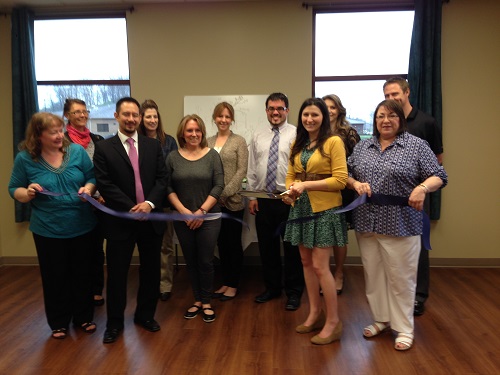 Healing Minds Clinic
Date: 04/25/2014
Healing Minds Clinic celebrated their new, larger location in the White Oaks Business Park on April 25th.
---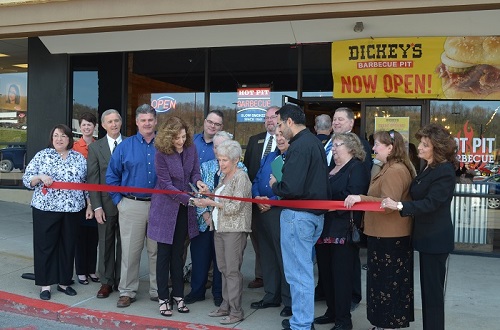 Dickey's Barbecue Pit
Date: 04/24/2014
Dickey's Barbecue Pit celebrated their grand opening in the New Pointe Shopping Center on April 24th with a line out the door. (Photo by John Nardelli)
---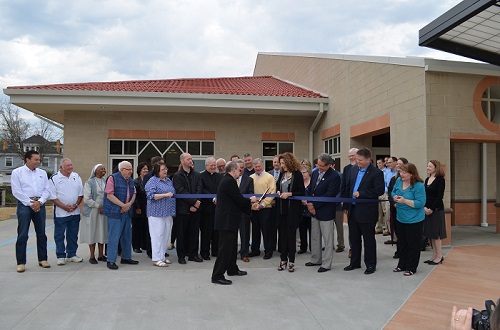 Immaculate Conception Parish Center
Date: 04/25/2014
The Immaculate Conception Parish Center celebrated a Ribbon Cutting and building blessing on April 25, 2014. (Photo by John Nardelli)
---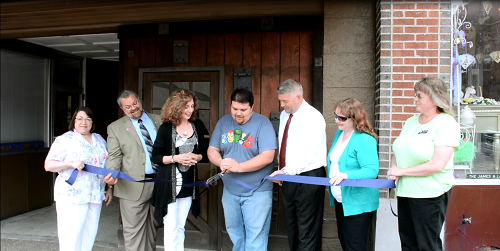 Silver Shutter
Date: 05/21/2014
The Silver Shutter photography studio opened with a Ribbon Cutting on May 21 in downtown Clarksburg.
---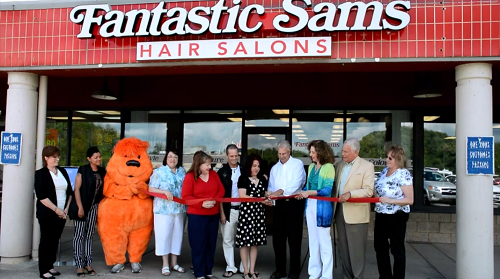 Fantastic Sam's
Date: 05/23/2014
Fantastic Sam's hair salon opened it's new location in the Eastpointe Shopping Plaza on May 23rd. (Photo by John Paul Nardelli)
---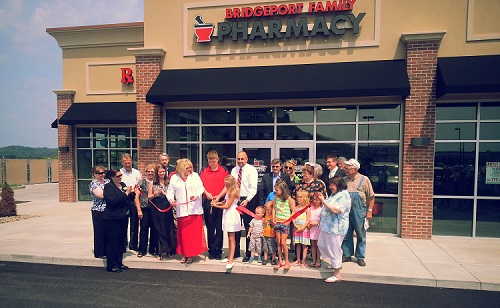 Bridgeport Family Pharmacy
Date: 06/17/2014
The Bridgeport Family Pharmacy opened in the Charles Pointe Commons plaza and celebrated with a Ribbon Cutting on June 17th.
---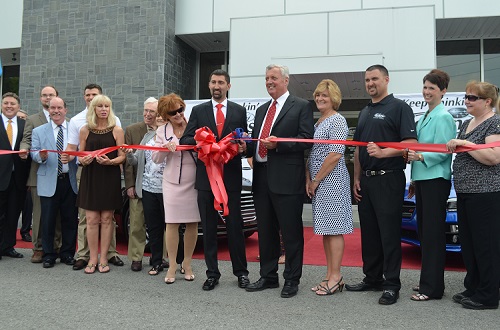 Jenkins Subaru Hyundai
Date: 05/30/2014
The Jenkins family held a Ribbon Cutting to celebrate their new ownership of the Subaru Hyundai dealership in Bridgeport or May 30th.
---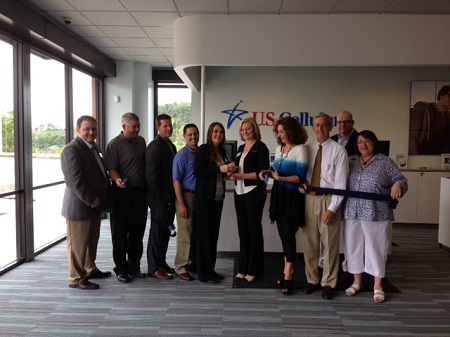 US Cellular
Date: 09/12/2014
US Cellular celebrated their relocation and expansion into a newer and larger location in the East Point shopping plaza on September 12th.
---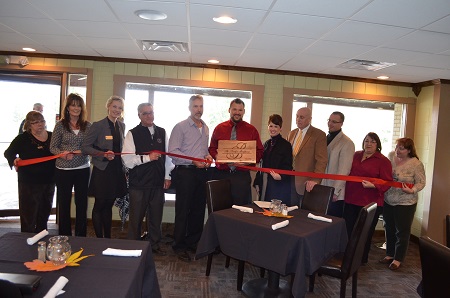 The Bunker Steakhouse
Date: 11/14/2014
The Bunker Steakhouse celebrated their grand opening with a Ribbon Cutting on November 14th. They are located at Bel Meadow Golf Club. (photo by Darlene Swiger)
---
Frontier Communications
Date: 10/22/2014
Frontier Communications opened a new retail storefront on Main Street in downtown Clarksburg October 22nd. (photo by Meganne Robinson)
---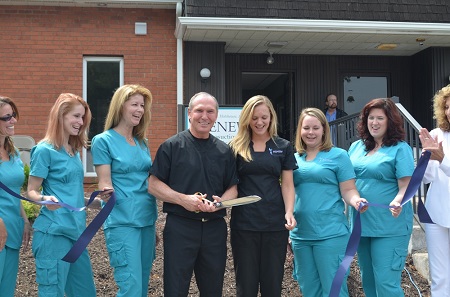 RENEW
Date: 07/18/2014
Dr. Holehouse and his staff celebrated their grand opening on July 18th.
---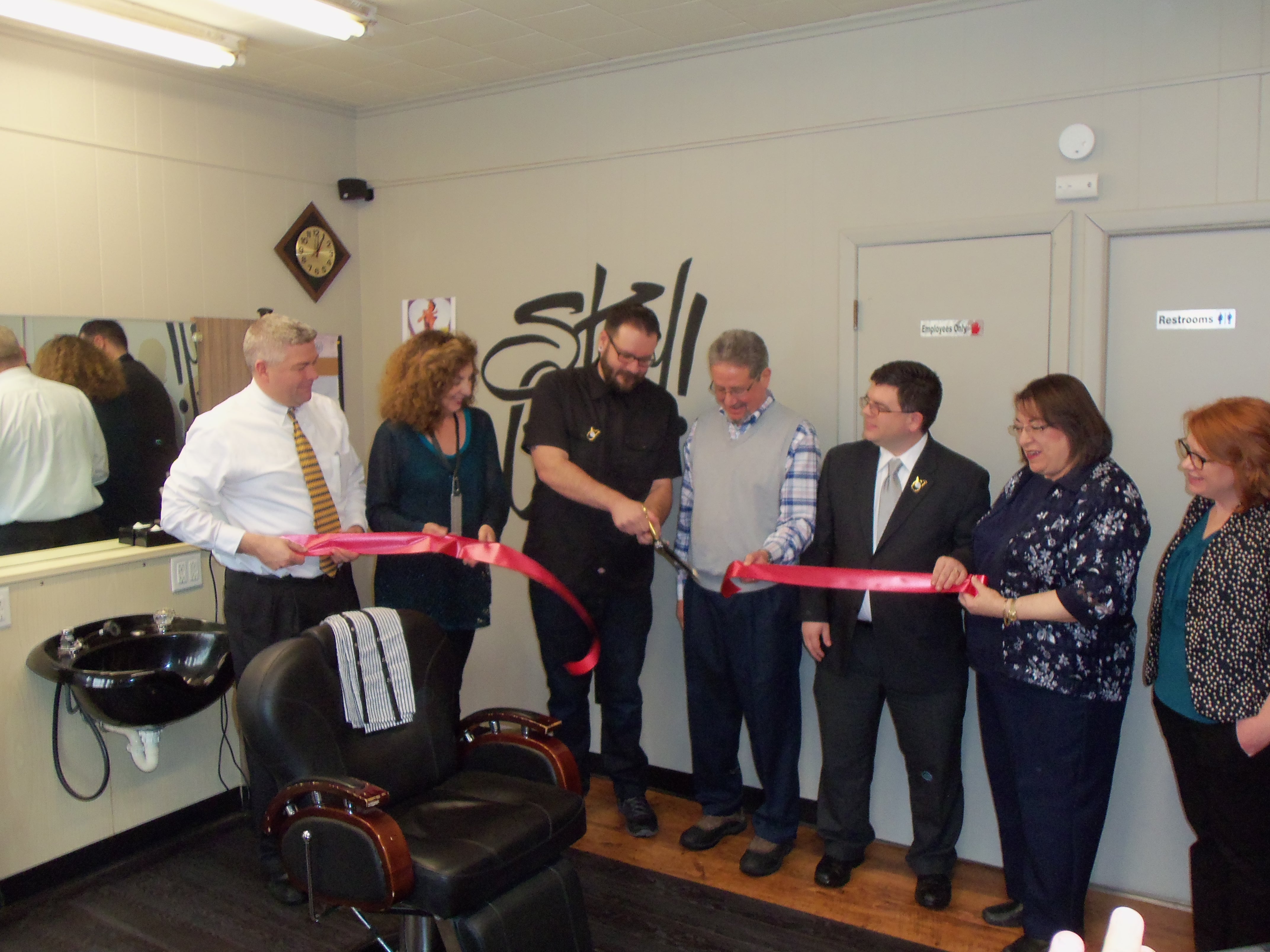 Stay Gold Barber Shop Opens in Downtown Clarksburg
Date: 02/01/2016
Clarksburg has a new barber shop downtown at 229 South 3rd Street. Stop in for a trim and welcome them to the neighborhood!
---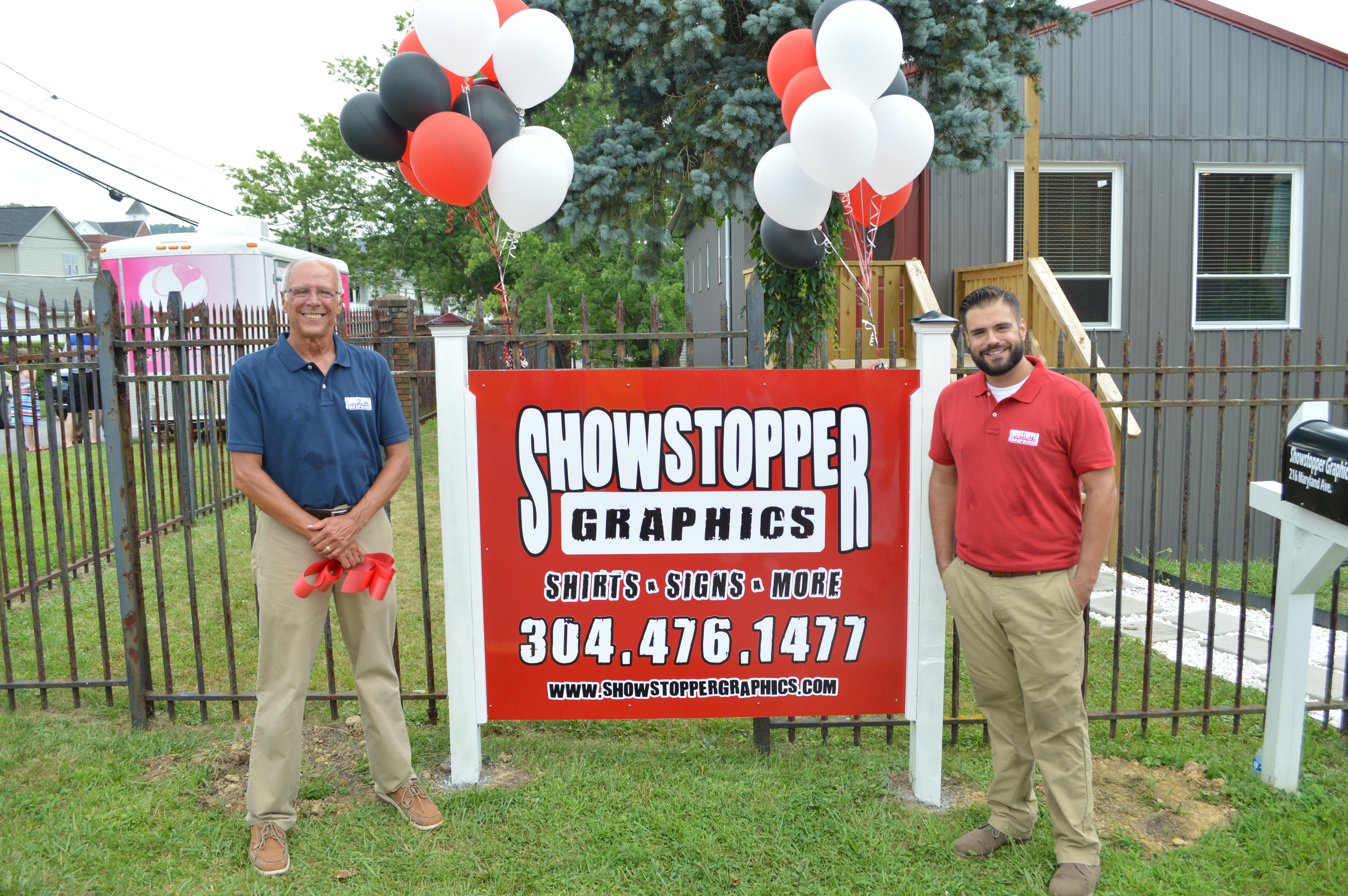 Showstopper Graphics Ribbon Cutting
Date: 07/26/2016
Longtime area businessman, Bob Menendez, helped celebrate the Grand Opening of Showstopper Graphics' new facility with his son Bobby Menendez. Whether you're looking for small or large format signs, vehicle wraps and branding, or just some printed t-shirts, give Bobby a call, and he'll take good care of you!
---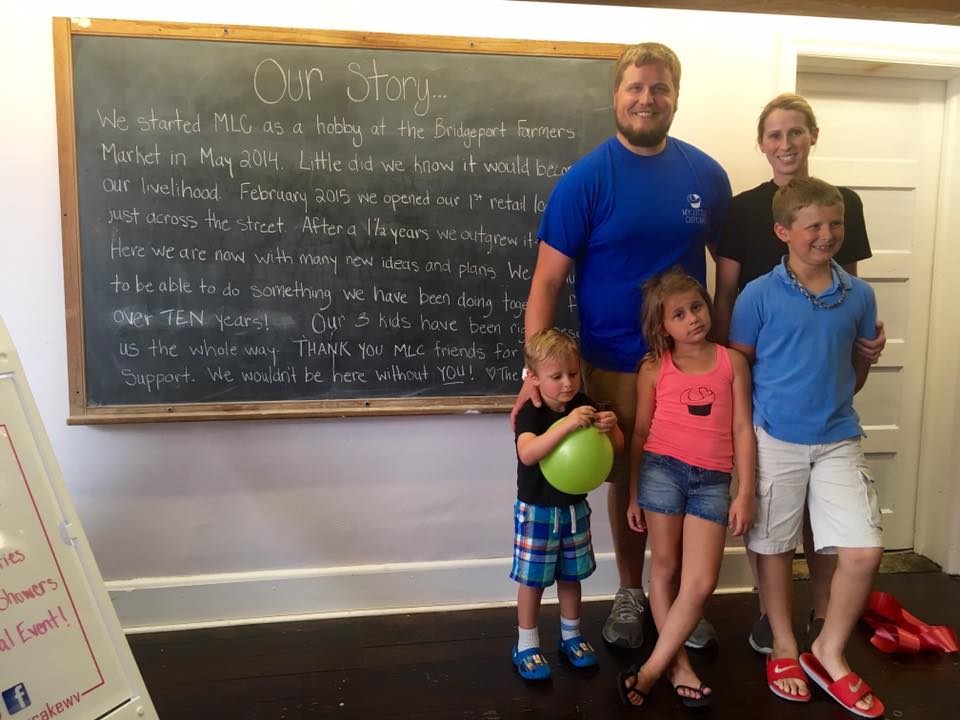 My Little Cupcake Expands
Date: 07/25/2016
My Little Cupcake, a popular stop for sweet treats in Downtown Clarksburg, has expanding to a full storefront at 331 West Main Street. Owners, Kaycee & Frank Crislip, have created a family friendly shop complete with a children's play area. But, don't let the fun environment fool you - they also bake very serious things like pepperoni rolls and wedding cakes!
---